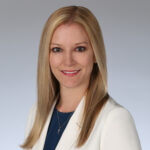 Ms. Leonard has handled a wide variety of complex legal matters proceeding in state and federal courts across the country, as well as in arbitration. Such matters include individual and class action lawsuits, and also lawsuits between corporate adversaries. She has experience defending clients in and resolving proceedings and investigations brought by various state and federal government regulatory agencies. She has also advised clients with respect to regulatory compliance and has assisted clients in obtaining proper state licensing in various industries.
The areas of law in which Ms. Leonard has knowledge include but are not limited to financial services (including financial privacy laws and regulations, consumer financial protection, dedicated account processing services, money transmission, abandoned property, debt resolution, debt collection, and payment processing services), hospitality (including timeshare litigation), false advertising, all aspects of consumer protection law (state and federal), and various regulatory matters.
Ms. Leonard graduated from the University of Florida's Warrington School of Business majoring in finance, and she graduated from Nova Southeastern University's Shepard Broad Law School where she graduated cum laude. While in law school, Ms. Leonard was an editor of the Nova Law Review.
State Bar Admissions: New York, Florida, Massachusetts, and District of Columbia
Federal Court Admissions: S.D.N.Y., E.D.N.Y., M.D. Fla., S.D. Fla., N.D. Fla., and D. Mass.